Create a Google Account
Why You Need On-line Accounts
When you are on the Internet, you are using programs and accessing information on other computers.  In order to identify you, and let you store and manage information on the Internet, you need to
have an account
with whoever is providing you the service.  For example, to use email, you have to setup an email account.   Your account name and password let you securely access and store your information on the internet computers that manage your email.
---

Why a Google Account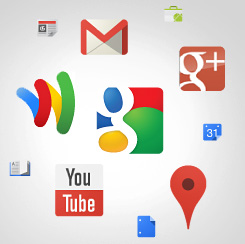 Google provides many useful services on the Internet.  These include:
YouTube - popular on-line video site
Gmail - Google's email service
Google Maps - Navigate, explore and share map information
Google Docs and Sites - Create and share information on-line
Google Plus - Share photos and information with friends and family
Google Calendar - Share calendars with family and friends
The great thing is that you can securely access and use all these services with a single Google Account.   Additionally, any Smart Phone running the Android system can be connected to your Google Account.  This is very convenient, since you only need to remember a single login and password for any of these websites.
---

Exercise 1 - Setup a Google Account
If you do not already have a Google account, here are the steps to setup a Google Account:
Go to accounts.google.com/signup. 
Complete the information on the form and click Next Step.
Google will send an email to the address you provided to verify your account. It may take a few minutes to receive the email. When you receive it, simply click on the link provided and your Google account will be verified.
You can now use your new Google Account to login to any Google service.  
---
Handling Gmail
One of the benefits of a Google Account is that you automatically get access to
Gmail
. This email address belongs to you for life and is available whenever you wish to use it.  If you already have an email account you can choose to:
Switch over to use Gmail as your main email account.

- OR - 


Forward your Gmail to your existing email account, so you only have to check one place for incoming email.
---

Exercise 2a - Switch to Gmail
Google provides a comprehensive step by step tutorial to help people switch from their existing email to Gmail.  You can access this tutorial by clicking the link below:
---
Exercise 2b - Forward Gmail
If you wish, you can forward you Gmail to your existing account so that you only need to check a single place. Here's how to forward messages automatically (instructions from Google Help):
Login to gmail - www.gmail.com
Click the gear icon  in the upper right, then select Settings.
Click the Forwarding and POP/IMAP tab.
From the first drop-down menu in the "Forwarding" section, select 'Add new email address.'
Enter the email address to which you'd like your messages forwarded.
For your security, a verification message is sent to that email address.
Open your forwarding email account, and find the confirmation message from the Gmail team.
Click the verification link in that email.
Back in your Gmail account, select the 'Forward a copy of incoming mail to...' option and select your forwarding address from the drop-down menu.
Select the action you'd like your messages to take from the drop-down menu. We recommend you choose to Archive Gmail's copy of the message.
Click Save Changes.
---

Next